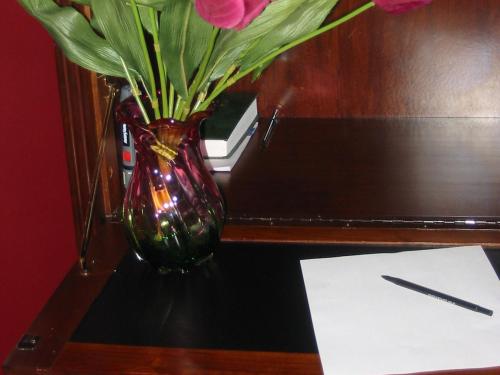 White Lilac Whispers
A beautiful seashore, Victorian
B & B in Spring Lake, New Jersey Feb., 2016
In This Issue
Valentine's Day/Presidents Weekend Specials
February Getaway Specials
Romantic Valentine Day Activities
Other February Events
Trip Advisor Recognition
Quick Links
Guest Rooms
Rates & Reservations
Guest Testimonials
Restaurants & Attractions
Directions
Dear Guests,
• Winter blues got you down?
• Tired of shoveling snow?
• Want to get away for a long weekend?
• Looking for a romantic getaway?
Here is some information and promotion deals for you.
Please feel free to forward this newsletter onto your family and friends:
Call 732-449-0211 to make your reservations.
Valentine and Presidents Weekend getaway with that special someone...
Stay 2-3 nights at our Low Winter Rates
• Relax by the fire and enjoy a soak in a steamy whirlpool tub.
• Area restaurants from fine dining to local pubs add to your weekend getaway
• (Some one night stays may be available at a higher rate)
This offer is valid Friday Feb.12th - Sunday Feb.14th
If you can't make Valentine's Day, here are two more specials:
1. February Winter Weekend Deal
• Stay Friday & Saturday at our low winter rates and add Thursday or Sunday for only $50.
• Available 2/18-2/28
2. February Mid-Week Winter Deal
• Monday - Thursday your 2nd night $99 / your 3rd night $50.
(These specials may not be combined with any others or gift certificates)
Some Romantic Valentine Day Activities
Algonquin Arts Theatre 732-528-9211 Manasquan 10 minute drive from the Inn
www.algonquinarts.org
• Jazz, Love & Sweet Whiskey / Saturday, February 13 - 8 pm Take five of the top musicians from the greater New York area and create a sound that blends a healthy serving of traditional jazz, a touch of blues and rock, a dash of international flair, combined with a steady mix of standards and new material; and you begin to have a sense of the tasty cocktail that Sweet Whiskey will be serving up.
• DINNER The following Algonquin Dining Partners are promoting special Valentine's menus:
o Blend on Main in Manasquan (BYO) Valentine's Menu (PDF) Reservations/Information: 732-223-0030 * blendonmain.com
o The Mill at Spring Lake Heights (Full Bar) Valentine's Menu (PDF) Reservations/Information: 732-449-1800 * themillnj.com
o Waypoint 622 (BYOB) Valentine's Menu (PDF) Reservations/Information: 732-528-6665 * waypoint622.com Due to the holiday, regular Dining Program discounts may not apply Contract the restaurant for information.
_____________________________________________________________________________________
Doolan's Shore Club / 5 minute drive from the Inn, 732-449-3666
• The Sounds of the Street, Friday, February 12th Starting at 7pm
• Gerard Esposito, Saturday, February 13th, Starting at 7pm
• Bobby Ballack, Sunday, February 14th, Starting at 6pm
Broadway's Next H!t Musical- Friday, February 12 at 8pm
• Don't miss the hilarious Broadway's Next H!t Musical: the only unscripted theatrical awards show coming to the Jay and Linda Grunin Center for the Arts on Friday, February 12 at 8pm! Master improvisers gather made up, hit song suggestions from the audience and create a spontaneous evening of music, humor, and laughter. This is your chance to be part of the show! Ocean County College (approximately 35 minute drive from the Inn) www.grunincenter.org
Other February Events
Spring Lake Community Theatre 732-449-4530 / 300 Madison Ave., Spring Lake 07762
• One Man, Two Guvnors FEBRUARY 26 & 27, 2016 A glorious celebration of British comedy, a unique, laugh out loud mix of satire, slapstick and glittery one liners. Fired from his skiffle band, Francis Henshell becomes bodyguard to Roscoe Crabbe. But Roscoe is really Rachel posing as her own dead brother who has been killed by her boyfriend, Stanley Stubbers. Francis spots the chance for another meal ticket and takes a job with Stanley Stubbers but to prevent discovery he must keep his two guvnors apart. Simple! Curtain: 8 PM ** Matinee at 2:00 PM / 8:00 PM performance
Algonquin Arts Theatre 732-528-9211 Manasquan 10 minute drive from the Inn, www.algonquinarts.org
• Dan Levinson's Steppin' Out with the Lost Generation Featuring David Langlois & Molly Ryan Sunday, February 21, 3pm Music from the Wild Parisian Jazz Parties of the 1920s Entertainment
Recognition by TripAdvisor.com